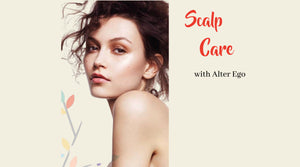 Alter Ego Natural Scalp Range
Kreative Salon Supplies bring to you the new Alter Ego Italy treatment line for the scalp 'Made with Kindness', a brand new line formulated to ensure the well-being of scalp and hair.
The 'Made with Kindness' range brings you on a multi-sensorial journey in which botanical and floral fragrances blend with delicate textures to stimulate the senses during the hair and scalp treatments.
From research our customers say they want more natural but effective products for their hair. Our new range is made with 97% natural, organic, vegan-friendly, eco-certified ingredients, free from parabens, sulphates and other nasty chemicals.
The beauty of hair begins at the root. The new scalp treatments in the range offer specific products that respond to the various hair and scalp issues for the client. The first step offers a cleansing and detoxing treatment enhanced with essential oils to deep cleanse the scalp and restore the condition of the skin.
The oil exfoliating treatment is then applied to the scalp to rid the area from dandruff and excess sebum in preparation for the next treatment. The soothing treatment enriched with aloe Vera offers a soothing, moisturising and rebalancing effect for sensitive scalps.
The three main shampoos in the range target specific issues. 
Energizing shampoo restores brittle, fragile hair and gently cleanses the scalp to create the correct environment to promote hair growth.
Calming shampoo soothes and calms irritated scalp returning the skin to its natural condition.
Pure balancing shampoo rids the scalp from excess oil/sebum and dry dandruff leaving the hair light and clean.
The Gentle Detangler is a lightweight, moisturizing conditioner for a complete after-shampoo treatment which leaves the hair light, soft and silky without dragging the hair down.
---
1 comment